Dembe* is a ten-year-old girl. She comes from a family of three children. Dembe lived with her mother, who had raised her in a suburb of Kampala, as her father lived far away.
For work, her mother was a cook. Her mother kept whatever money she had left after paying for household essentials in a small bag in the house. Dembe would sometimes take some of the money from her bag to buy stuff like sweets, chapatis and mandazi (a kind of fried pastry) for herself and her friends. She said that she would always ask for money from her mother, who would tell her that she didn't have any money. Whenever her mother asked her about the money, she would deny it and her mother would leave her alone.
A family fall out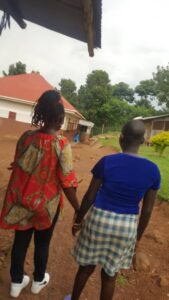 One time, when her mother had just come back from work, she saw Dembe take money from her bag. Dembe hadn't seen her come in. Her mother asked her about the money she had taken, but she denied it.  In the end Dembe confessed, as the money was still in her hands, and her mother took it back from her. It was two thousand shillings (approximately 46 pence). The mother took a stick and started caning Dembe. Dembe then decided to run away from home. She kept on moving until she reached a town near Jinja.
When she reached this town she sat there, crying from distress and loneliness. A good Samaritan approached her and asked her why she was crying. Dembe explained everything that had happened to her to the lady who told her that she could sleep at her house, and then they would go to the police station the next day.
While at the police station, they were told that if no relatives came to collect Dembe within two days, they would hand her over to an organisation that takes care of children. This organisation was S.A.L.V.E. International.
A call to S.A.L.V.E.
Later, the police called S.A.L.V.E. and a member of staff came and picked her up from the police station and brought her our residential site. While staying with S.A.L.V.E., Dembe has been so grateful for the care she has received.  She is enjoying her stay at our Halfway Home, and S.A.L.V.E has invited her mother for family counselling sessions. This has allowed her to repair and strengthen the bond between mother and daughter and we are now preparing Dembe to be resettled home to her mother.
*names of children are changed in line with our Child Protection Policy