Many of the children we work with on the street come to us with dangerous drug addictions, preventing them from making the fresh start in life they deserve. We believe a Drug Rehabilitation Service is vital to offer these children the specialist care they really need to turn their life around.
Drug Addiction amongst children on the streets
Drug abuse is a huge problem for children living on the streets of Uganda, especially in big towns and cities like Jinja.
Mafuta (aeroplane fuel) is the drug that up to 80% of full time homeless children that we work with in Jinja, Uganda have been found to take regularly. The Mafuta is typically poured onto a rag in a bottle. The material then gives off fumes that are inhaled.
With an estimated 600 children living on the streets of Jinja and a further 3,000 children out of school working on the streets to survive (Minsitry of Gender and NGOs lead by Retrak, 2017),  there are likely to be thousands of children that need specialist help. This is why we believe our programme is so vital – not only for children and young people to access in Jinja, but also as a model to be replicated in other parts of Uganda.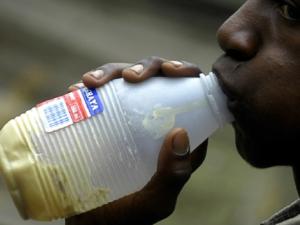 There are many reasons as to why children on the streets turn to drugs. For some, there is peer pressure from other children. Others suggest that Mafuta helps them to forget their problems: whether these are worries about the homes they have left behind, the cold nights on the street, pain caused by beatings, or feelings of fear and hunger. A hit of Mafuta costs less than a plate of food – and it's usually easier to find. When you take all these factors into account, it's no wonder so many children on the streets turn to drugs
Drug addiction makes it much harder for a child to leave the streets. However much they may want to leave the street, without the specialist support they need to overcome their addiction, even when they are taken home to their families, they are far more likely than other, non drug-addicted children, to return to the street.
The need for a Drug Rehab programme
There is a real lack of knowledge and understanding about the severe, long-term effects of taking Mafuta and other inhalants, such as memory loss and extensive organ damage. Children and young people are not educated about the serious side-effects of drug abuse and instead focus on the short-term hit and the benefits it brings to them instantly. Our Drop in Centre in Jinja town carries out lessons on the dangers of drug addiction and abuse however, the children and young people attending are often already addicted.
It's unsurprising that children who are addicted to Mafuta are given less odd jobs from the local community than those children who are not, which means that they often miss out on potential income. They subsequently have less money to buy essential items like food, increasing the risk of them eating food from bins or turning to crime. It's a vicious cycle that can seem impossible to break.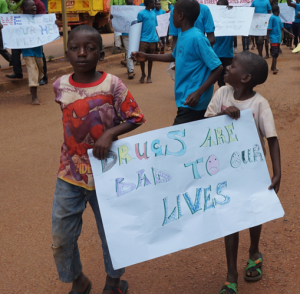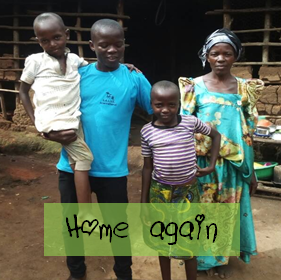 Our Drug Rehabilitation Programme
In 2017, after extensive research, planning and fundraising, we were finally able to open our very own Drug Rehabilitation Centre (DRC) for children coping with their difficult life on the streets of Jinja through drug abuse.
Our centre is the first of its kind to offer this specialist addiction support to street-connected children in Uganda.
The centre offers a safe and peaceful place for the children and young people to undergo an individualised rehabiliation process. We want to find out the reasons why they came to the streets and turned to drugs in the first place, so that they can find other ways to overcome their challenges in the future.
Whilst under our programme, they receive detox support, individual and group counselling, educational classes, health care, good nutrition and when they are ready can benefit from sharing their story through our peer-to-peer education scheme. Children who have been living on the street have often missed years of schooling and thus, have lost confidence in themselves and in their ability to handle different social situations too. We give them extra support in learning life skills, which include the value of friendship, communication skills and building their self-esteem. They also learn useful practical skills like how to make environmentally cooking briquettes and how to do permaculture sustainable farming.
Once they are ready, we help them to re-build their relationship with their family and to plan for what next in terms of their education. Then we help to re-settle them back home to their family and community, and follow up regularly to ensure they are settled and can re-join educaiton.
Thank you
We would like to thank each one of our amazing supporters who have contributed to fundraising for our new Drug Rehabilitation Centre and Service so far. This programme is changing lives and has a lasting positive effect on children who access it. With specialist support, the children can successfully re-enter both the family home and the education system and build a brighter future for themselves.
Overcoming drug addiction is not easy, it requires a lot of personal resilience and dedicated support to make it happen. So if you are able to offer help for this life changing programme, please get in touch. We would love to hear from you.
Stories from the Programme: