Many of the children we work with on the street come to us with dangerous drug addictions, preventing them from making the fresh start in life they deserve. We believe a new Drug Rehabilitation Centre and Service is vital to offer these children the specialist care they really need.
Drug Addiction amongst children on the streets
Drug abuse is a huge problem amongst children living on the streets. Mafuta is the local name given to the drug (aeroplane fuel) that up to 80% of full time homeless youth that we work with in Jinja, Uganda have been found to take regularly. The Mafuta is typically poured onto a rag in a bottle. The material then gives off fumes that are inhaled.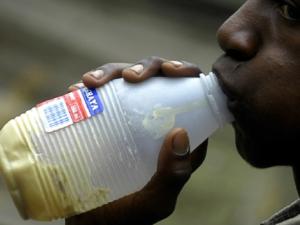 There are many reasons as to why children on the streets turn to drugs. For some, there is peer pressure from other children. Others suggest that Mafuta helps them to forget their problems: whether these are worries about the homes they have left behind, the cold nights on the street, pain caused by beatings, or feelings of fear and hunger. A hit of Mafuta costs less than a plate of food – and it's usually easier to find. When you take all these factors into account, it's no wonder so many children on the streets turn to drugs
Drug addiction makes it much harder for a child to leave the streets. However much they may want to leave the street, without the specialist support they need to overcome their addiction, even when they are taken home to their families, they are far more likely than other, non drug-addicted children, to return to the street.
Why do we need a Drug Rehabilitation Programme?
There are currently no specialist youth Drug Rehabilitation services in Uganda with a focus on inhalants. With an estimated 10,000 children living on the streets in Uganda (UNICEF), and with our research showing around 80% of children living full-time on the streets in Jinja take Mafuta, there are likely to be thousands of children in Uganda needing specialist help that they currently don't have access to. This is why we believe it is so vital to open this centre.
It's unsurprising that children who are addicted to Mafuta are given less odd jobs from the local community than those children who are not, which means that they often miss out on potential income. They subsequently have less money to buy essential items like food, increasing the risk of them eating food from bins or turning to crime. It's a vicious cycle that can seem impossible to break.
There is a real lack of knowledge and understanding about the severe, long-term effects such as memory loss and organ damage that can be caused by inhalants such as Mafuta. Children are not educated about the side effects of drug abuse and instead, focus on the short-term hit and its beneficial effects. Our Drop In Centre provides lessons on the dangers of drug abuse, but often the children attending are already addicted.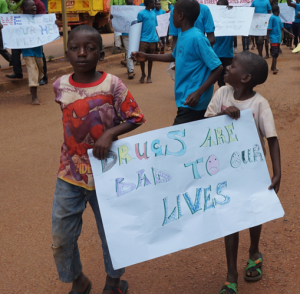 We have had countless children tell us that they want to stop taking Mafuta, however, they can't do this without our support. With little to do on the streets, it's easy to turn back to the drugs, but away from the streets, in an environment where there is plenty of structure and activity, the drugs will be much easier to overcome.
Because of this we need a safe and peaceful place for children to receive counselling where they can undergo the detox process, before transferring to our main house which will prepare them to live in a loving family home and re-enter the education system.
Together we can make sure that there are services to meet the needs of every young person on the streets in Jinja so that they can build a brighter future for themselves.
Thank you to everyone who contributed to help us to construct the specially design centre to host the programme in 2016. We hope to open this vital new drug rehabilitation programme in spring 2017. If you would be interested in finding out more about funding the programme, please get in touch with nicola@salveinternational.org