Meet Samuel*. He was on the street for a period of six months. He is from a local village and currently lives at home happily with his relatives. He studied up to senior two level at secondary school but dropped out due to the influence of the peer group he had fallen into.
How did he come to live on the street?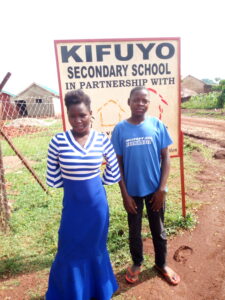 Samuel used to live with his parents, as one of their five children.  His father could not fulfil the basic needs for his children so Samuel's mother started working on an island far from home.  She would leave her family to go and operate a small business of selling fish to earn money. This money is used to support the family without any help from the father. This covered just enough for them all to survive, but their home was not a nice place.
One day, one of Samuel's friends convinced him to go and look for greener pastures away from both his school and his home. This was starting work in a sugar factory in a district far away. So the time came to begin their jobs, and both Samuel and his friend started the journey to the new place where the sugar factory was located.
Samuel never informed either of his parents or other nearby friends that he was moving to another location. When the day came, they both left for the new location and on arrival, everything was totally new to him. It took a while to get used to the new environment. The following day, his friend introduced him to the person in charge of giving casual work at the factory. He was told how much he will be earning per day and he realized that it was not enough to rent a house where they could sleep or buy food and fulfil other basic needs.
Samuel worked there for two weeks before stopping. He did not tell his friend who he came with from his home. The following day, he left the town and boarded a taxi up to another town which he did not know very well. He was so desperate that he never really knew where he was going. Once there, Samuel started street life.
Samuel's experience on the street
Samuel's first night was a shocking experience for him, it was his first time sleeping outside. When it got past midnight, the situation worsened. it became incredibly cold and he didn't have anything to cover him like a blanket or anything to sleep on.
The following day, thankfully, he started to socialize with new faces and friends living on the streets. He made friends easily because his weight and physical build were so good to help with heavy work. Later on, he got used to street life and was liked by many of the street connected children, he could even protect them during times when they fought each other at night. Many started calling him brother, and uncle or father (depending on their age).
One day, a team of S.A.L.V.E. International workers were carrying out a street walk in the town and found him among the groups of children in one of the spots commonly adopted by children on the street. One of the workers spent time with him to find out about the situation he was going through on the streets. Sometimes children can be reluctant to speak with strangers as they aren't trusting because of the many bad things that happen. Thankfully, Samuel was open with the worker about his life and agreed to walk with them to the S.A.L.V.E. Drop in Centre. From there on he started attending Drop in Centre activities like school lessons, counselling services and sports every Wednesday at the football pitch.
How did he get back home?
When the time came and the team had been able to find out enough information,  they prepared Samuel thoroughly to be home traced to one of his relative's homes. The day came and he was taken to his relative's place. On arrival at their home, they found his grandmother who had a bad hearing problem, luckily other relatives were present so she welcomed them in and was so happy to see her grandson again. She gave the S.A.L.V.E. worker a chair to sit on, greeted them and shared stories about Samuel's life. The grandmother explained that they had even put announcements over the radio and had filed a case at numerous police stations. They missed him so much.
After listening to the grandmother, the S.A.L.V.E. worker introduced themself, where they had come from, and why they were there. Everyone had a chance to share their experience and the first side to do that was the relatives of Samuel, Samuel and finally the worker. Throughout the discussion, they came to realize why Samuel had left their home and went to live on the street. The worker eventually left them but promised to stay in contact and call for follow-ups over the phone and physical follow-ups to see how Samuel was progressing in his new environment.
What is the follow-up process like?
One of the phone follow-ups:
This was made to ascertain whether Samuel was still with his relatives and they told the worker that he was still at home and how he was getting on. They got the chance to talk to him, shared with him about the importance of being at home and he appreciated the advice. The worker informed him that they would be making physical follow-up visits to talk more, which made him very happy.
Physical follow-up visits: 
The first physical follow-up found Samuel crafting a small hut at home. He was so happy to see the S.A.L.V.E. support worker for the first follow-up, as were the relatives he lived with.  They shared a lot about Samuel and how he was coping since he had been resettled.  It was a positive visit and the worker praised the relatives for mentoring and keeping Samuel well.
Another support worker was interested to hear about Samuel's progress since being rehomed with his relatives. They were pleased to hear he is a good child and well-disciplined, but they wanted to take him for education to learn knowledge and practical skills to help out around the home even more. This was done with an organization which partners' with S.A.L.V.E. International. Samuel attended a series of practical skills training with the partner organisation., which he really enjoyed.
His S.A.L.V.E. support worker has made several follow-ups since, and has found Samuel a changed person. He now helps his grandmother to care for her compound and aspires to be a responsible person who knows the importance of home life.
How has S.A.L.V.E. International impacted Samuel?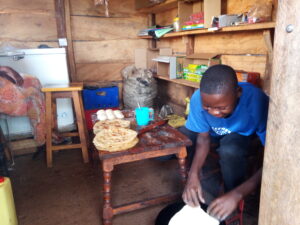 S.A.L.V.E. International has greatly changed Samuel's life from the initial chat when he was found on the streets, when he started attending Drop in Centre activities such as school lessons, counselling sessions and sports, to home-tracing him to his relatives and making follow-up calls and visits.  Taking him for knowledge and skills development also hugely helped to strengthen his position to not go back to his old lifestyle by boosting his self-value and opportunities for the future. Samuel has sometimes expressed thoughts of relapsing back on the street, but he hears and listens to the advice of both S.A.L.V.E. workers and his relatives and he is now focused on having a positive future at home.
How do Samuel's relatives feel?
The relatives of Samuel are so happy for what S.A.L.V.E. International has done, and is continuing to do for their grandson since he was found on the streets. They have watched him become a responsible person who is focussed on his future, who no longer moves with bad peers and supports them as a family.
How does S.A.L.V.E. International feel?
S.A.L.V.E. International exists so no child calls the streets home. Lives like Samuel's are one of many they try to help and get back on a supported and loved pathway. S.A.L.V.E. as an organisation always feels passionate about finding a happy, settled and supported life for these children with their relatives and Samuel's case is no exception to this. The team is so happy for his progress and happiness. 
*Names have been changed in line with our child protection policy