Gilbert*, like many children who leave home for a life on the streets, had a hard life at home. Gilbert's life was made difficult by his step mother who used to tell lies to his father about him.
One day, she accused Gilbert for breaking a set of glasses yet she was the one who did it. Gilbert's father was very mad at him and beat him badly for this. The neighbours could not tolerate what they were seeing and came to his rescue.
After being rescued, his angry father said to Gilbert. "you've been taken away by your new father, don't come back to my house again, you're no longer my child."
The neighbour thought that "the angry Daddy" would calm down. Gilbert stayed with his neighbour for a few days before he asked him to go back home. He hoped to talk with his father and explain what really happened.
When Gilbert reached home, he was very disappointed to find his father had kept the anger. "I thought you got your new Daddy, why have you come back?" – asked by his angry dad.
Abandoned and walking for a new life
Gilbert decided to leave home and go to the streets of Jinja, Uganda. This was a 72km walk from his village in the east of Uganda. In his mind, he thought that if he went to the streets, he would get good life. But when he reached there, he found some older street kids who asked him to pay money for rent. They gave the reason that he had just come from home, but he had no money and also he was not paying rent while at home and he had no coin.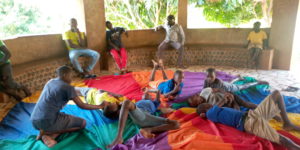 He bravely asked them why he needed to pay and the older children told him he would have to pay for sleeping on the sides of the streets. Gilbert told them that he had just arrived in Jinja from home and he was not paying any money for sleeping on the streets. They started to check his pockets searching for money instead of asking for the reasons as to why he had left home.
Meeting S.A.L.V.E.
After some weeks on the streets working hard for his survival, one day, he failed to get any food and a child who was very drunk told him to follow him to get to a project called "S.A.L.V.E." At first, he hesitated because he could not believe someone drunk to have a solution for his situation. But after several unclear explanations, he just had to ask him to take to him to the project he was talking about.
"When I reached there, I was surprised to find children who had some problems like me and felt so happy meeting children of my category. Uncles welcomed me and told me to go and take a shower before I could join friends and in their class activities. After taking the shower, I was given new clothes, asked to join their class activities which later enabled me to get free good breakfast and lunch", Gilbert narrated.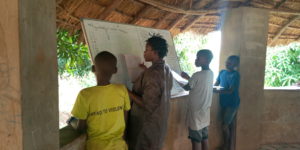 He continued to attend the Drop In Centre regularly for the different activities which included lessons, sports, counselling and guidance. Through those activities, he was able to open up to the uncles who later asked him to take them to his father's home for family counselling. The mission was successful and he was taken back home to reunite with his family. S.A.L.V.E. staff talked to his daddy about the importance of listening to a child and not using beating as a punishment or way of sharing his frustrations.
"I am now happy living with my Daddy whom I used I used to call "Tough Daddy". Thank you very much S.A.L.V.E. International" said Gilbert.
"I conclude by advising my fellow children who are currently living with their parents at home not to come to the streets because "NO STREET IS CALLED HOME" and also there is no streets with good life."
*names of children have been changed in line with our child protection policy