Do you believe that no young person should have to live and work on the streets?
Do you believe that children who have lived on the streets deserve the chance to fulfil their potential?
S.A.L.V.E. International is looking to recruit a part-time UK based Communications and Administration Officer – could it be you?
About the job role: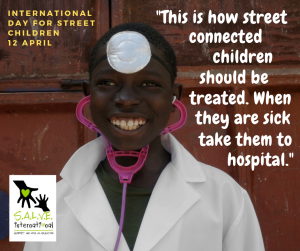 This is a 14 hour a week role which would be perfect for someone looking for a flexible job, based in Manchester (UK) that makes a big social justice impact.
This would suit someone with family responsibilities or who is studying a part-time masters course for example, who needs a job role that fits in around their other commitments. You could work it full time over two days or part-time over 3, 4 or 5 days a week.
You will be working in a small and dedicated team to play a vital role in the charity's international development programmes in Uganda.
You will be expected to be resourceful, hard-working and adaptable. We are looking for someone who is dedicated to finding solutions while maintaining a consistently positive outlook.
In exchange, we can offer you hands-on experience of working in an International Development charity with a deep insight into the running of the organisation as well as a high level of autonomy.
It's vital that you are self-motivated and able to work unsupervised to meet deadlines to a high standard.
The role of our Communications and Administration Officer includes;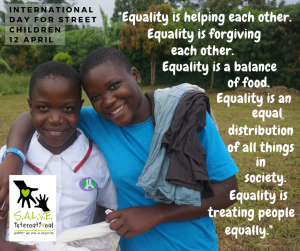 – Delivering the communication plan of the organisation. This will include editing and updating the website, writing posts for social media on a daily basis (including Facebook, Twitter and Instagram) and writing our monthly e-newsletters. This can also include writing inspiring stories or blogs and editing videos and photographs.
– Managing volunteers in the UK to help to build the capacity of the organisation as needed, who are helping in administration or communications.
– Administering our Educational sponsorship system. Including sending out welcome packs to new sponsors, sending out Birthday and Christmas reminders to sponsors, posting out sponsor letters and reports to sponsors, keeping sponsors data up to date on our database etc.
– Work with the S.A.L.V.E. team to deliver on our strategic plan. Contribute to its review and improvements over time to maximise the organisation's impact with our service users through regular evaluation and learning reviews where required.
– Offer administrative support to our CEO as needed on a variety of projects at different times in the year.
About S.A.L.V.E. International

S.A.L.V.E. is a small UK and Ugandan partnership International Development charity working hard to ensure that street-connected children in Uganda have a brighter future.
We offer a holistic and individualised range of programmes that enable us to build strong trusting relationships with children living on the streets of Jinja so that we are able to help them move off the streets and successfully settle back home with their families and re-join education.
Hours: 14 hours per week. This is a maternity cover role from November 2020 – October 2021.
Pay: UK Living Wage Foundation rate for outside of London
How to apply: Please download the full job description for more information and send your up to date CV (maximum 2 pages) and a 1 page covering letter that clearly demonstrates how you meet the Job Specification and how you would hope to fit this job in around your other commitments to info@salveinternational.org
Closing Date: Wednesday 16th September 2020 (midnight)
Interview date: Friday 9th October 2020
"Working for S.A.L.V.E. International is brilliant. I love coming into work and knowing that what I do makes a real difference to vulnerable people in Uganda. The job satisfaction, combined with the fact that the team are a friendly, welcoming bunch makes my working days fly. On a personal level I have learnt a lot at S.A.L.V.E. and despite it only being a small charity, there are lots of opportunities to learn and for personal development."
Anna (Current Communications and Administration Officer)