Hello to 2023! With the start of every new year we are always excited to think about what lies ahead. This year we have some BIG plans and we really want you to be part of them.
If you've not made any resolutions yet, why not consider supporting S.A.L.V.E. in a new way? This could be financially such as playing our lottery for £3 a month, or by taking on a fundraising challenge like our virtual Mount Elgon hike. Or you could show your solidarity with children on the streets by taking part in our monthly Inequality Question.
We appreciate that the cost of living crisis means that many households will be feeling the squeeze, so we have come up with different ways for you to get involved that won't cost too much, or in some cases, nothing at all.
Whatever you choose to do, please know that as a small charity your support makes a big difference and we are really grateful for anything you choose to do. We hope you'll stand with us in making 2023 a fantastic year and helping us get one step closer to ensuring there is 'No Street Called Home'.
Fitness challenges for 2023
We have two very exciting fitness challenges coming up this year and we would love for you to get involved.
The first is our virtual Mount Elgon hike, where you can climb 4,321 metres across the month of January with our innovative challenge. This could be up your stairs at home, on local walks or taking on a hill or mountain near you! All we ask is that you donate or fundraise for us along the way to help raise funds and awareness of our work with street connected children.
The second is the Peak District Challenge. Taking place on the weekend of 8th-9th July 2023 there are 6 different route options: ranging from a 10 mile option that passes Chatsworth House, right up to the ultimate challenge, 100km! Sign up before the end of February and you will secure discounted entry using the code NYCHARITY23.
Hiking up Mount Elgon later this month will be a team of twelve S.A.L.V.E. team members and supporters – all very inspired to go the extra mile to support children to be able to leave the streets and have a brighter future.
As part of this team will be myself, Nicola (CEO), Alfred, our Ugandan Country Director and Steven, who is now a Peer Mentor supporting other children, but was once helped by S.A.L.V.E. to leave the streets and get an education. Each of us will be doing our own fundraising and so, to help show us your support and inspire us when the going gets tough, please consider sponsoring one of us for the hike if you can.
You can read about my inspiration for taking on this challenge here, about Alfred's inspiration here and Steven's here. Steven also recently wrote a blog entitled "Restoring lost hope", which is well worth a read to learn about his amazing journey.
Watch the video below to hear Alfred share more about why he is going to climb Mount Elgon for S.A.L.V.E.
Fundraising for free
We are so grateful to anyone who choses to support us and no matter how big or how small, your contribution really does count!
We have come up with a range of ways that you can fundraise for free for us. So from earning us money on your online shopping (at no cost to you), selling items on Ebay, recycling ink cartridges or clearing out any leftover currency – we'd love to hear from you!
S.A.L.V.E. news round up
🦌 We are very proud that in December, we were able to sell some of the goats from our goat herd, which is a great source of income and also a positive step towards sustainability.
🎧 We released our latest podcast about child marriage, told from the perspective of a street connected child in Uganda and one of our S.A.L.V.E. social workers.
🎭 Our friends at Stepping Out Theatre in Bristol put on a festive performance of 'Plum Duff' to raise funds for us. They raised over £4,000 in total (thanks to some matched funding) – huge well done and thank you to everyone involved!
🎅 We celebrated Christmas at our Drop in Centres and residential site. The children played party games, ate party food and were gifted with items of clothing. A big thank you to everyone who so kindly donated so that the children could feel some festive cheer.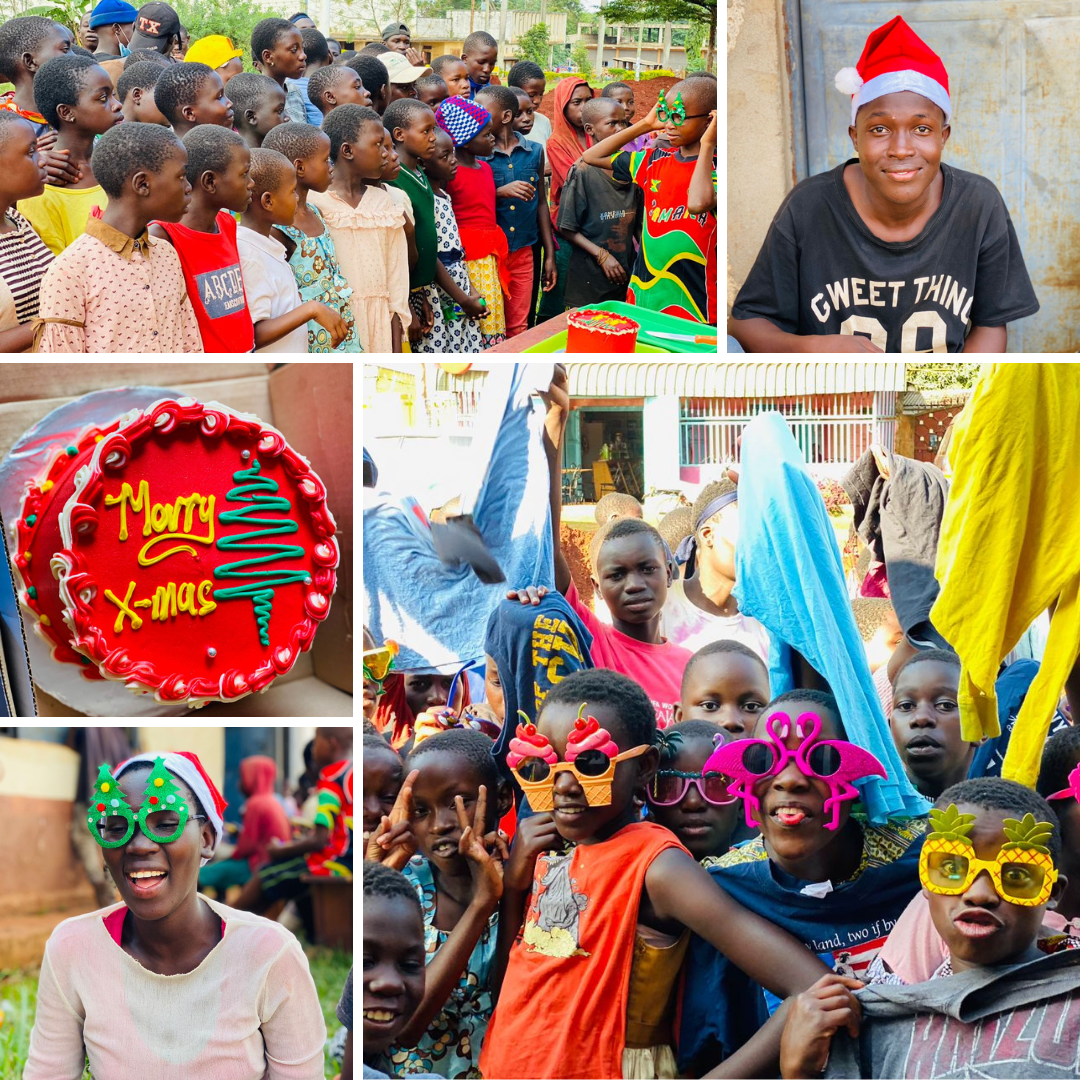 Lottery for Change
The S.A.L.V.E. Lottery for Change winner is Hannah B! Congratulations, Hannah.
Would you like to be next month's winner? For just £3 a month you can be in with a chance of winning £100 and provide a street connected child with lunch for a week! Find out more here.
Webale nyo
Thank you for your continued solidarity and support. We are so grateful to be part of such a caring community of people, working together to give opportunities to children living on the streets of Uganda.
If you have any questions or feedback, please do not hesitate to get in touch. We always love to hear from you 🙂
Lots of love and (hopefully) sunshine from,
Nicola and the whole S.A.L.V.E. team
Each month the children in Uganda want to hear from your for our Inequality Question. This month's question is all about bullying in schools. What does that mean to you? Share your views here. The children love hearing thoughts from friends around the globe on their debate question!