Do you believe that no young person should have to live and work on the streets?
Do you believe that children who have lived on the streets deserve the chance to fulfill their potential?
S.A.L.V.E. International works with children living on the streets of Jinja to help them leave the streets and return home to their families and back into education.
S.A.L.V.E. is looking to recruit a team of Ugandan volunteers to join us for an exciting one month project from 22ndJuly to 16thAugust 2019.
Assistant Project Leader
Your role is to support a mixed group of Ugandan and British volunteers undertaking community research into three main areas of the Sustainable Development Goals. As a team, you will also run a Holiday Camp for children to learn life skills. You should be a creative person, who is able to support all of the volunteers to do this to the best of their ability. This could mean; helping to plan and organise activities, using your knowledge of the area to help the volunteers improve their work, and offering extra support to the volunteer team to work well together and overcome any challenges or conflicts that may arise. You can read the full volunteer role description here.
Team Member Volunteer
You will volunteer with the S.A.L.V.E. team to carry out a community research and action project. This project will involve conducting surveys or questionnaires in local communities and researching into our chosen areas of the Sustainable Development Goals; Gender Equality, Climate Action and Health and Addiction. The role will involve planning, community research, implementation, evaluation and reporting of the project in a timely and quality manner. You will need to have an interest (and knowledge) of one of three areas of the project. At the end of the project, you will feedback the results in a community event, or to a panel. You can read the full volunteer role description here.
All volunteers will also support the running of Holiday Camp activities for children in our programme. This could include; life skill classes, sports sessions, talent shows and arts and crafts activities.
The deadline for all volunteer applications is 26th June 2019. If your application is successful for the Assistant Project Leader role, you will be called to an interview. If your application is successful for a Team Member role, you are required to attend a selection day on 10th July 2019.
Visit: www.salveinternational.org/news for the full job descriptions or call Alfred Ochaya on 0777538083.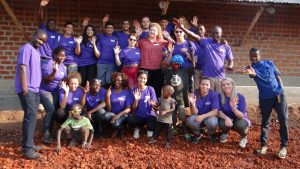 Please apply:by sending your covering letter explaining how you fit the job description and your CV to info@salveinternational.org. Please clearly identify which volunteer role you are applying for. It is possible to apply for both roles if you wish, as long as you apply before 26th June and make this clear in your cover letter.
Please only apply if you are a Ugandan national over 21 years old, based in Jinja, with excellent computer knowledge and skills, as well as a passion for the work we do. You should have good time keeping skills.
Please note: You will be volunteering 5 days a week, including occasional days at the weekend.
– You will need to be available for 2 induction days before the project begins on 17thand 18thJuly.
– All volunteers will also help run a holiday camp for the children.
– Your expenses will be covered for the month well as receiving lunch and travel expenses if you are out in the field.