A friend of mine at work asked me about my favourite destinations on this planet, a question that triggered my mind and sent me on a voyage of thoughts about which answer I would give him. First I considered the floating townships of Venice, the Eiffel tower in Paris, the pyramids of Egypt with the mummies and where the then mighty pharaohs are said to be "sleeping" until this day, Victoria Falls of Zimbabwe known to be the most widespread falls on the face of the earth, the Han River that swiftly flows through Seoul in South Korea, or the mighty Amazon Delta, covering miles and miles of the earth's turf. Having delayed the answer, I had to give him a good one as if he would give me a free ticket to this destination! I chose Venice, yes Venice in Italy. I would dream to be part of this magical array of floating cottages, to pause and take pictures that I would later show to my children and grandchildren. The delight in his eyes showed how pleased he was with my answer, and the conversation went on and on.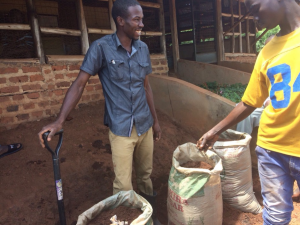 When I later posed the same question to the children in our permaculture class at the S.A.L.V.E land, one of them, quickly answered, "Jinja Club, yes that's where I want to go!" This caught my attention, leading to the next question, "What are the main features that attracted you to this place?" The answer focussed on the arrangement of the trees, flowers, the footpaths and the general cleanliness of the place, making him wish that this was his home.
Flower gardening is one of the facets permaculture can take. Though few people go to school to learn about subsistence agriculture, local people find themselves practicing this trend and end up passing it to their children as a certain kind of inheritance. Conventional agriculture has taught these same people that farming is all about planting and sowing seeds one wants to grow and destroying others they dislike terming them weeds. As permaculturalists, we try to change this mindset by showing that there are benefits from all types of plants, but that working with them to our advantage is not always easy!
Challenging Perceptions
When I first saw the S.A.L.V.E. land I was working with, I thought that it could not be done! But this was not the case. From a permaculture point of view, knowing that land is never totally depleted and never so far from healing allowed me to see the potential in the land. With some easy technical steps, one can turn soil which once was uncultivable to highly productive land and thereby turn around the ability of the land to produce vegetation.
Most local farmers have grown up to believe that farming is only the production of crops and animals. But this definition is much too narrow. Many of my students were surprised that we were growing flowers. They asked, "what are the use of these?" Many even gave up working because they didn't see anything directly edible from a flower! With continual explanation and examples, particularly at nearby farms that were trying to grow flowers themselves, many finally agreed to give planting flowers a try!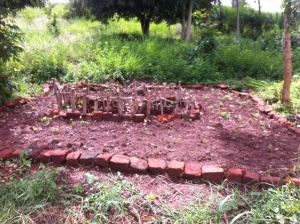 With the children's help, we began collecting rocks that were lying around the Drug Rehab Centre. These can be a good source of building materials for structures like nursery beds and other kinds of sheds and will also be included in other kinds of ornamental gardening.
I wanted to show the children that having a positive attitude can help change a situation. For example, putting in place the necessary conditions for growing flowers can change land that many people thought was beyond repair. Together, we created areas that allowed for seedling growth. This helped create beauty in a land that was previously covered with rocks, creating new colours in our micro environment on the S.A.L.V.E. land. The flowers also encourage insects and can be used to prevent some pests that attack our other plants.
"Social Work is more complicated than Rocket Science!"
"Social Work is more complicated than Rocket science." This is a lesson we have learnt at S.A.L.V.E. We are exploring lots of skills and introducing them into these young minds which had previously been lied to by many including those they had trusted. We hope to reintroduce confidence in them, by starting with ways in which our environment can change from worse cases to a more improved one. Children who have lived on the streets lose the hope, patience and courage to keep going, and that's why many decide to take on behaviour like drug abuse. This makes them vulnerable to sexual abuse, denial of basic rights and many other deprivations that hurt them, striking down their self confidence. At S.A.L.V.E. International, we come in to help the child to undo these negative effects and reintroduce them to the hope that they had given up on. Permaculture education is really working towards these goals as the children can often see their situation reflected in the plants they are caring for, and love to see them blossom and grow despite challenges of the environment.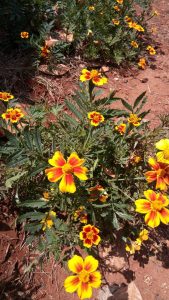 Children learn many new topics at S.A.L.V.E. Through permaculture they learn about restoration. First to their environment and in the end, in the children's mindsets and behaviours. Importantly, learning to believe in themselves and their potential. This can lead to the children deciding to re-join school and attain a better future as professionals in whatever field they choose. On this note, I call upon everyone who reads this to join S.A.L.V.E.'s mission of support to street connected children. We have to be a community or a village to raise a child, especially a child who has had such hard experiences on the streets.
One way you can do this by joining our Child Sponsorship Programme and ensuring that children who have built up their self esteem again have the opportunity to return to school and work towards a brighter future.