Christmas.
This is a day that is very special to everyone as it doesn't segregate. It is always on the 25th of December, every year.
But before Christmas, in December, people start making savings and make budgets of how they will spend it to help their celebrations be colourful. On the day, stories are told by the elder ones of how they have ever spent their Christmas.
Here in Uganda this is a very special day. This is a cheerful day, for the low and high income earning families, all make sure they have fun according to their capacity. New clothes are bought so people look special, churches are filled up by people because almost everyone goes to church to celebrate the birth of Jesus Christ (even friends who are from other religions), various special dishes of food are made, big quantities of food are given to everyone and people share food amongst neighbours as a sign of LOVE.
Wow it's a fun day! Christmas trees are decorated in almost every home, here the artificial or natural Christmas trees are decorated, most work places and road sides are also made to look beautiful with the Christmas tree decorations, Christmas songs are played and this makes everyone feel how special the day is. Most people travel back to their families to have Christmas together. Even if this is a long distance to the deep village.
But have you ever wondered how street connected children spend their Christmas Day?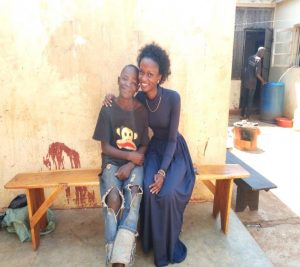 Do they also get the chance to have the same fun like the other children at home, be bought new clothes too or do their families come and get them off streets and at least cerebrate this special day together? Most of their days on streets go by without food and this is not because they don't want to eat, but because they try to look for what to eat but sometimes fail. If they then turn to steal and are caught, they are judged to be thieves and they are either arrested, or left to the mob violence. But on this day specifically do they get the chance to have the various dishes of food they want to eat or it is the same? Do you think Christmas even matters to them?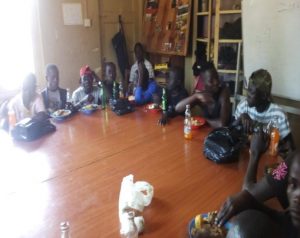 On the Christmas eve I got the chance to talk to one of the street children who always comes and attends our Drop In Centre. I found him sitting alone and asked him what could be the problem with him? With tears filling his eyes, he told me that he misses his family. To me it was suprising to hear him say he misses his family because I used to talk to him about going back home and he didn't want to hear anything connected to going back his family. This was a sad moment for both of us because he had to disclose to me the secret he had kept for a long time. On Christmas day two years ago, his father was arrested, his mother died on the boxing day and the relatives took their family property. His family was spilt apart and to him, coming on the streets was the best decision. In reality, being on streets has never been the best decision because there is no street called home. There is no peace on the street,  instead more troubles. He recalls the Christmas days he had spent with his family and the fun they shared together. He continued to share with me the days he got the chance to receive 'Merry Christmas' messages from his family and now expects it no more from them. The Christmas days he could expect nice food and new clothes, but him putting on dirty and torn clothes is normal now. Now he waits for the leftover food thrown in the dirty bins.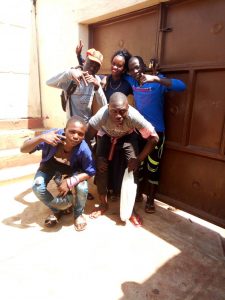 This Christmas, some of the S.A.L.V.E. team decided they needed to enjoy it with the children who come to our Drop In Centre, since we are their aunties and uncles too now. We started with the general cleaning of our centre because being and staying clean is our priority. Afterwards, we all gathered, wished ourselves Merry Christmas, and each child at the centre received a Christmas gift. We sang Christmas songs and so much love was shown that the children were so happy that they also celebrated Christmas with us. The children also loved when we had a special lunch together. This was my best Christmas ever! I wish all days were Christmas day because I got the chance to see and feel the love of the children on street.