In 2018 people seem to be discussing and exploring gender inequality more than normal… which is exciting. Is this because 100 years ago in the UK women won the right to the vote? Could it be because of new laws forcing companies with more than 250 employees to declare their gender pay gap… empahsising the fact there is still a big gap needing to be adressed? Maybe it's related to the #Metoo campaign and women becoming more vocal about the sexual harassment they can face day to day, just for being a woman. It therefore feels like an interesting time to reflect on gender inequality.
Working with street connected children in Uganda can be challenging as a woman. A lot of the male children have very negative perceptions of women. This can be due to abuse they have faced in the home at the hands of women, but it can also be due to the fact that they are taught men have to be strong leaders and women their weaker followers. Many of the children openly share that they don't respect or want to listen to women in the same way they do men. It can be hard to know how best to respond to this, to gently demonstrate this is not helpful in creating a more fair and progressive community.
I am also a woman in a leadership position and as such I have to be vocal, make decisions and have had to learn how to smile, question, but ultimately get on with things, even when I am being belittled for being female.
So this year I wanted to do my i
nequality
challenge focusing on gender. This week I am handing over the power of decision making to some of the men in my life. Every day I shall have a different man in control of what I can and can't do…
If you able able to show support for our inequality challenges please click here. Any sponsorship will be gratefully received and help S.A.L.V.E. to take action against inequality in Uganda.
Getting started: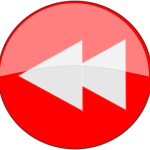 Starting something new can be painful… but this morning that was sadly literally true.
My controller for the day decided the idea of men controlling women was very backwards… so he has instructed me to walk backwards for the day.
This may sound easy – but just give it a try! So far I have already walked into quite a few walls, knocked the bin over twice and am generally slow to get anywhere which is frustrating!
It also turns out that walking backwards makes you become dizzy if you do it for too long. I also discovered though you may be slow and go less far you actually do more steps from going backwards.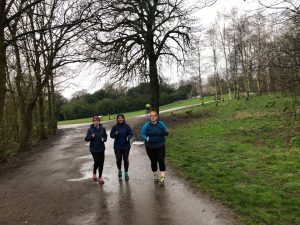 Sadly I had a run with friends organised for this evening… This would normally be lovely and a nice chance to unwind and have a chat as we jog. However running backwards is quite painful on your ankles and very slow so it made me become unsociable and fall behind the others. They did do a bit of solidarity backwards running though which was kind of them. I was also laughed at quite a bit from strangers for my inability to run in a straight line.
Overall this day of backwardness was not enjoyable, and actually quite dangerous for someone as clumsy as me. I was relieved when it was time to go to sleep and a new controller was due to take over tomorrow.
Being smart and wrong handed:
Todays decision maker informed me I must call him boss all day.
He also told me I had to do everything with my left hand leading rather than my right hand. This was actually harder than expected. I found out my left hand is actually quite weak for some things such as peeling an orange or opening doors due to lack of practice. I perhaps need to do more strength exercises on my left moving forwards.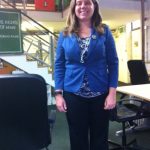 I was also instructed to look smart for work. In Uganda they are a smarter dressing working culture than the UK so perhaps this is why this instruction was given. I normally dress for comfort and the environment rather than for smartness, so I found this a bit uncomfortable (being overdressed compared to others around me) and also cold compared to my big jumpers I normally wear!
I also had to ask my controller before being allowed to drink or eat anything. He always said yes, but he wasn't always timely in his response so I had times of watching others eat and drink while I was waiting for permission.
All in all a frustraing but less likely to cause myself bodily harm day.
Wearing and eating only the colours in the Ugandan flag: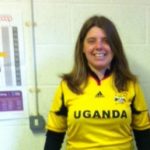 Today my controller was creative – I was only allowed to wear or eat the colours of the Ugandan flag.
So of course the day started with trying to decide if the small bits of white around the Uganda Crane counted (we decided yes it did). Thus that left me with red, yellow, black and white to choose from.
Easy you might think … but not if you washed your black trousers last night and are not a brave enough person to own exciting yellow or white options. So I went for my red (ish) trousers, black top and of course my Uganda football shirt. A bit cold but not too bad.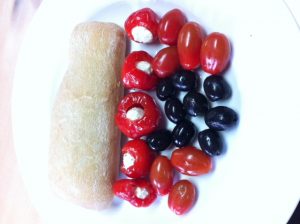 With what to wear sorted came the issue of what to eat… hmm. This was more limiting, especially since I had made a nice green vegetable soup to bring to work with me last night. It's harder than you think finding food that can work together in the appropriate colours. I have also learnt today that I am a big fan of food in the colours of green and orange.
Today I reflected a lot on what it means to have people make you follow rules without you buying into the purpose behind them.
What if men didn't exist?
Today my boss for the day told me I had one instruction only. To be in a world where men didn't exist. This meant I couldn't acknowledge or talk to any men I encountered, unless they communicated via phone or computer (to allow me to do my job).
He justified this is because a lot of women exist in communities seclude and hide them away from men or limit their interaction with men, to keep them pure and reduce temptation for men. He also argued that women may not need men in the future since science can allow us to artificially procreate now, so this could be my chance to experience the next phase of humanity…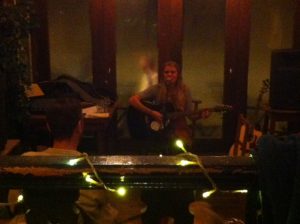 It felt very awkward and rude to completely ignore the men I met throughout the day. Luckily my shared office had quite a few women in it today, so I had people to talk to – but little social niceties like being able to offer people a cup of tea or open a door for them felt very strange to offer to do for some people and not for others based soley on thier gender.
It was especially noticable in the evening when I went to enjoy some music in a cafe with a lovely friend… and her male friend came too! It feels even more difficult to ignore someone you've never even met before. There were quite a few long awkward silences as a result while she was interacting with someone I wasn't allowed to communicate with.
It will feel nice to be part of a more diverse society tomorrow!
Alright mate?
Today I have been instructed to call all men "mate" and all women "darling". As well as to post you sports updates throughout the day on this blog.
I started the day being told I must only eat breakfast beginning with the letter b – bread and butter it was!
Sports update: Tonight Aston villa play Leeds at 19.45 UK time. Will the unlucky date have an influence on their playing? Let's find out!
Sports update 2: Gold Medal – Grace Reid (Scotland) Women's 1m springboard. She becomes the first Scottish female diver to win a Commonwealth medal. Reid finishes with a score of 275.30 ahead of Georgie Sheehan of Australia, who takes silver, and her compatriot Esther Qin, who recovered from a bad start to take bronze.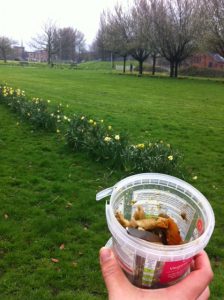 Sports update 3: England's Katarina Johnson-Thompson claimed heptathlon gold at the Commonwealth Games – her first major outdoor title. Very impressive!
Sports update 4: Joshua Kiprui Cheptegei won a gold medal in the 5000m. This will continue to inspire the children at SALVE to love running.
For lunch today I was instructed to go and eat in the park – which was lovely! Until the drizzle started of course (not that it ever rains in Manchester). My controller pointed out to me how kind to was to me to send me outside for my lunch.
This evening I went to celebrate a friends birthday and was instruted whenever I spoke to her or her sister, that I should rub my stomach and pat my head. This was fine for the first few seconds but soon became tiresome if you wanted to have a proper chat.
Conclusion:
It has been a strange week. Every day feeling a little bit nervous about what exactly you might be asked to do next. Embarassing myself publically because I was told to. Restricting the food I could eat, the clothes I could wear and who I was allowed to speak to and how. It was not an enjoyable experience.
The thing I have most valued about this week though is all the conversations it has allowed me to have about gender inequality and how many people became interested to discuss it due to my challenge. Too often we just ignore inequality and pretend we don't see it or that it's not there.
If this challenge inspired you – please do consider joining in and taking your own inequality challenge (lots of inspiration here).
Also, if you able able to show support for our inequality challenges please click here. Any sponsorship will be gratefully received and help S.A.L.V.E. to take action against inequality in Uganda.
Thanks so much for reading my blog.