Many things usually happen at home and the children are blamed by their parents and sometimes they are punished, chased and run away from their homes. It feels bad for the children, or any other person, to lose connection to their family and this is one of the reasons why children run away from their homes to the street.
The former and current street connected children in Jinja created and acted in a film and the title is "LIVING A LIFE OF RESILIENCE". In this film, they bring out the life that children live at home; parents can at times make quick judgments, after getting to know any misconduct or behaviour that happened at home. This can be done in a wrong way that has terrible consequences.
What happens in the movie created by the children?
Dan was accused of theft at home, and yet it wasn't him who stole the money. His young sibling picked money from their dad's pocket, she connived to allege that it was Dan who took the money. Dan's dad came back from the garden and didn't find the money. After five hours Dan came back from playing and the dad started blaming him for taking his money, this worsened to the extent that Dan was sent away from home.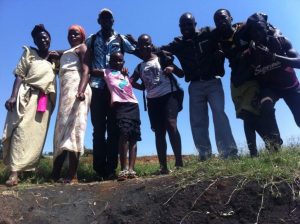 He went to stay with the aunt in another village, however the aunt would engage him in child labour and Dan didn't like this, so he went to stay with an uncle. The uncle also had many children he was taking care of and so didn't accept Dan to stay with him.
Life became harder for Dan and he decided to go the street.
We see him on the street 5 weeks from the time he left home; he was bullied on the street and survived being arrested by the police several times. He worked really hard on the street, the market traders would send him to fetch water for them and in turn he was given money and food.
We need good friends in our lives, Dan met a friend at a football stadium and the friend sympathized with him especially after Dan narrating to him how he was chased from home and how life has really been hard living on the street.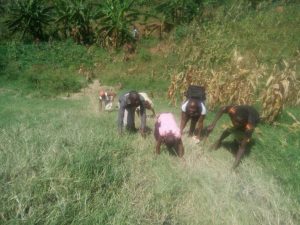 His friend took him to S.A.L.V.E International to access the services that S.A.L.V.E offers to street connected children. The social workers at S.A.L.V.E counseled him and he participated in a number of activities like sports, art, online debate and many other activities. After a month of intense counseling, Dan, accepted to be taken home to meet his parents where he was accepted back home. He was enrolled to a vocational school and became a professional builder.
After a period of 5 years, we see Dan being driven in a vehicle as he goes shopping. His friends call him on the phone and he tells them that he is no longer living on the street, at the moment he is working as well as constructing his own house.
All people at some point face disappointments, sad news, and discouragement. However, it is important to figure out the immediate solution to our problems just like Dan tried to go to other relatives though things didn't work out.
We need good friends in life –  it's usually said that "A friend in need is a friend indeed." Making use of the outer support networks in the towns or villages where we live is also really important.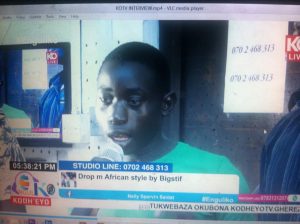 Have a dream in life and work hard to achieve your dream, never give up because of a slight disappointment. Dan wanted to become a builder and even when he was on the street, we see him meditating and focused in his words, in the film we see him saying "I have suffered in life, but I have hope that I will become somebody important, it's a matter of time and I will overcome the hardship I am going through at the moment."
Alfred the Resilience champion acted as a police officer in this film, we see him and two other police men arresting the street connected children on the street.
This film is produced and its being played on some TV stations in Jinja. The film has a powerful message of Resilience and it has been translated to a local language to bring out the message of "Resilience", which in a local language is "Obuvuumu"
Children's participation is key in the building with bamboo project, we have conducted an interview on Television about the film and we will be going with the street connected and former Street connected children who acted in the film so they can inspire the community around them never to give up hope. No condition is permanent.