The last few days were all about drive for change.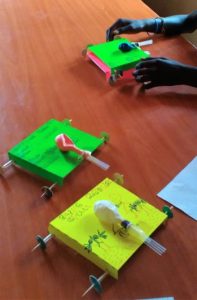 I can still feel the scissors in my hand after cutting out more than 200 little wheels from card so that our vehicles for change can keep moving.
The last two days have been full of the power of air expelled by balloons sellotaped onto card cars with messages of aspiration, hope, love and vision. I have enjoyed my last two days with the S.A.L.V.E. teams and children a lot. We talked about vehicles and what they are and how they move and expanded our vocabularies with submarines, exhausts and ferries.
Then we got into thinking about what motivates us, supports us and helps us be a part of change we want to see in the world. We decorated our vehicles of change with supportive message and inspiring illustrations. And then we got building – bend the card, stick through a straw, pull through a skewer, go through the wheels, stick the balloon with more straw to the card and there you go! Your very own vehicle full or energy, enthusiasm and passion is there! We've made a truckload of them!
Four weeks with S.A.L.V.E. in Jinja was absolutely amazing
I learnt a lot about different aspects of the programmes – their innovative nature and the challenges that come along the way. I got inspired and was proud to support such a dedicated, enthusiastic and resourceful team of professionals. We exchanged ideas and opinions and I was able to offer some of my creativity and knowledge about wellbeing.
All this was possible because of the donations I got from generous people in the UK! And we made the donations go quite a way – I have managed to spend just about half of them.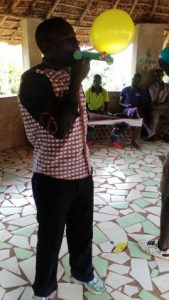 Which meant careful consideration about where the rest will go so that it is as useful as possible for the projects. Right now S.A.L.V.E. are aspiring to raise (even double!) the number of children they will resettle home to their families from the streets this year! The resettlement together with the follow ups – the team would meet the child and their family 3 more times – costs around £100 for each child. That means that the money left after my four weeks of learning and sharing will support the resettlement of 2 more children – and that is a no-brainer!
And I have also met these two young people who both left to join their family again just before I left Uganda – David* and Andrew*. David is a passionate (and really good!) football player as well as a keen artist. Andrew was called Mr Briquette as he was one of the skilled and hard-working boys who supported the social enterprise while staying on S.A.L.V.E.'s land.
To close, it feels like I should be saying something really profound – but I think I will just finish with another no-brainer: there might be differences in communication style and different ways of working across cultures and continents, but it still comes down to people being people. We all need to care and look out for one another and we all need to be loved and supported.
Thank you for reading my blog and for all your support.