We had such a busy time in April celebrating the International Day for Street Children. This is a day that we're really proud to be a part of and it was so inspiring for the children to see their words and artwork come to life in our News from the Streets newspaper.
If you haven't read it yet, I recommend you do!
💛 When reading the paper it got me thinking about what inspires me too.💛
S.A.L.V.E. has grown a lot since we co-founded it over 15 years ago and in that time it has grown significantly. We have just updated our impact statistics and I'm delighted to share that since 2008:
 👣 2,459 children have accessed our Street Outreach services
🏠 693 children have stayed in our Halfway Homes and Drug Rehab Centre
👪 671 children have been resettled home
🎓78 young people have graduated from our education programme
and they're just the headline stats! Read more here.
None of this would be possible without you, our incredible global family – thank you.
What truly inspires me though is the individual stories of each and every one of these children and their families who we have been privileged to help. I've been lucky to spend lots of time in Uganda over the years to hear these stories first hand.
I know this isn't possible for everyone though so, if you haven't already signed up to our S.A.L.V.E. Summit event on the 10th May, I really hope you do. It is our chance to share some of these inspiring stories with you and show you the difference that your support has made to the lives of street connected children and their families. 💛 Webale nyo! Thank you! 💛
Roll up, roll up, and be a winner!
Ever fancied tearing round a race track in a go-kart, or enjoying a day out paintballing with friends? Or is curling up with a good book and a glass of wine more your thing?
We have 17 fabulous prizes in our raffle covering everything from fashion and homeware to experiences and we want to help you to be a winner! To have your chance at grabbing one of our fantastic wins simply enter our raffle. We're also running a competition on our social media channels too with an extra prize of an Italian food hamper up for grabs!
Visit either our Facebook, Instagram or Twitter and simply share our post, tag two friends and buy one (or more!) tickets! People who do this will be entered into our prize draw.
Raffle and competition winners be will be drawn on 10th May so act fast and be a winner!
(NB The raffle and competition are only open to UK residents)
A visit to S.A.L.V.E.
One of our amazing supporters, Deena, was recently doing some pro bono work in Uganda and had the opportunity to visit our S.A.L.V.E. Drop in Centre for boys. We caught up with her to find out more about her trip:
"I found out about S.A.L.V.E. through a friend three years ago and have made donations to them since. In April I was in Jinja and so was finally able to see some of the team at S.A.L.V.E. and the kids that they help.
I was lucky to visit on a staff meeting day and so got to meet some of the counsellors and therapists who all seemed very committed and kind. The team is doing great work. The children they are working with aren't in great shape emotionally, and the staff told me a sad story about a child they had been trying to help who had recently overdosed while on the streets. Seeing it in person really brings home the magnitude of the problem.
I was amazed at how far my personal donation went, from helping to cover a major portion of the site's rent for a year to supporting Covid-19 recovery funds for family businesses. It was great to see the tangible change I was able to contribute to.
Without any government support, S.A.L.V.E. is really reliant on the good will of its donors and has been able to take that and turn it into a lasting community presence with real impact in the lives of Ugandan children and their families."
Thank you, Deena, for your support for street connected children and their families. Thank you also to all of our global family who donate and support us to be able to be there for children when they need us most. We wish that we could show you all our work first hand in Jinja but until then, we hope that Deena's visit inspires you and that you are able to attend our S.A.L.V.E. Summit on 10th May to learn more.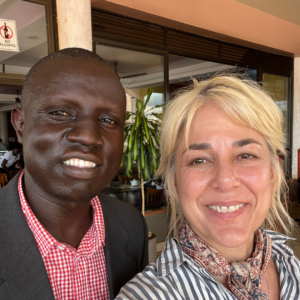 April S.A.L.V.E. news
💔 Please read BBC Africa's heartbreaking article about the shocking rise of sexual abuse of young girls in Uganda. It's something that we are seeing in Jinja and at our Girls Drop in Centre especially.
👣There is not long left to sign up for the Peak District Challenge (taking place on 8th – 9th July). Come and join Team S.A.L.V.E. and take on a hiking or jogging challenge for a great cause.
📰 We are delighted to have been featured in one of Uganda's National Newspapers, The New Vision, after an interview with our amazing Ugandan Director, Alfred Ochaya, for the International Day for Street Children.
🛍️ Check out or new items in our online shop. We have added gorgeous new aprons, oven gloves and bags to our ethical range!
Webale nyo
None of what we have achieved would have been possible without the support of you, our global family. Thank you for continuing to be part of our community and for standing in solidarity with street connected children with us.
If you have any questions or feedback, please do not hesitate to get in touch. We always love to hear from you.
With love and springtime sunshine,
Nicola and the whole S.A.L.V.E. team
Each month the children we support in Uganda want to hear from your for our interactive debate. You can get involved either ahead of time or on the last Thursday of the month when our debate goes live via our website.