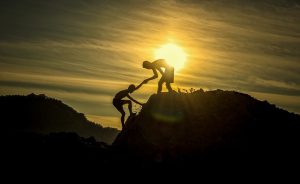 Life is a journey full of hills and valleys. At times we are in valleys and at other times on hills. It is always easier when we are on the top of the mountain or the hill; we are always happy because we can manage to walk freely and see far places. On the other hand, when we are deep in the valleys, we can get down hearted and think we may not be able to climb up to the top of the hill again.
For some people, it can be easier to leave the valleys for the tops than others, because they may know a way out or have some friends to send them climbing ropes to. But some people are disadvantaged, they have never been on the top of the hills. They have been soaked in the mud for all of their life and feel too weighted – they cannot believe the mountain tops were made for them.
Meet Blessing
She was born in a very poor family which could afford only one meal a day. She was raised in a situation where only today counts and tomorrow belongs to someone else. Due to extreme poverty at home, she was forced to get married to a relatively rich man in the village. She and her family believed he would care for her well.
Unfortunately, the man whom she thought was rich had lied to her. In reality, the man was a Witch Doctor who could not go a day without drinking alcohol. She wanted to leave the man's home to go back to her parents, but she knew she could not leave as they could not support her either. She had her first son without any help from her husband to pay for medical care. She wanted to leave, but she was scared of the man and his reputation for witchcraft. So she stayed at home, continuing to give birth until she had seven children.
After the seventh child, her father died and so she went for the burial. This was a blessing in disguise! She left the husband's house with no intention of returning. She had decided that this time, come what may, she would not go back to that man's house. She decided to stay at her deceased father's place with her children and her mother.
Later, her husband came back to claim her. She refused to go back.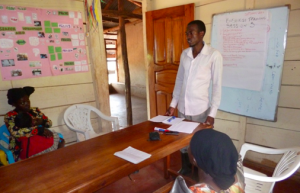 Due to poverty and lack of care from their father, her children started  bouncing from home to the streets, from the streets to home and back again. One of her children left home to the street of Jinja where we, S.A.L.V.E. International, work. During our street walks, we came to know the boy. Through our counselling sessions, he opened up to us and told us about home.
One day, he decided to take us home to meet his Mother and Grandmother. It was good to be received into their family. They accepted that John was their son. We asked the mother about her life, about the whole family, and she started telling us how they had lived a hard life until now. Her whole life had been spent in a valley. Her children had dropped out of school and started going to the streets because there was no money at home to take them to school.
Business Training as Whole Family Support
As S.A.L.V.E., we assessed the situation and decided that we should help John go back to school. He had faced a lot of trauma while on the streets and needed extra support to overcome that. But that would not be enough. With our community empowerment programme, we decided to empower the mum with business knowledge and a financial start up. Now she has her business, Blessing is able to support her other children that are not in the S.A.L.V.E. Educational Sponsorship Programme with school fees, clothing, food, and medication.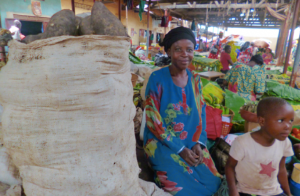 With her mother for company and support, she runs her foodstuff stall in a local market. She is so grateful that her business earns more than sixty thousand Ugandan shillings a month in profit on top of the other family needs.
So with this family Empowerment Programme, S.A.L.V.E. has thrown a rope to Blessing to help her climb up a slippery hill. She has started to witness the opportunities from on top of the hill. She committed herself to research an appropriate business, attend all the necessary business trainings, and accept follow up visits every month. If she begins to slip down the hill again, she knows she can come to S.A.L.V.E. for advice on how she can keep moving upwards for herself and her children.