This year marks SALVE's 10th birthday! To celebrate this amazing achievement I decided to set up a Facebook Birthday Fundraising Page for my (not so young) 34th birthday. In case you fancy donating, here is the link! ;o)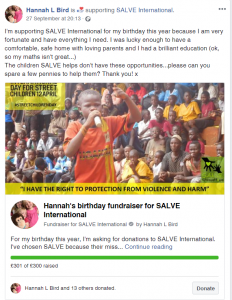 It was very easy to set up… to be honest I was prompted by Facebook to do it, so it was quite lazy of me really. I had seen other friends do them and thought it would be fun to try and see if it could work for me as a way of celebrating both my own and S.A.L.V.E.'s birthday.
All I had to do was:
Write why I was setting up the fundraiser
Set a target amount
Decide if I wanted to match donations. You can set an amount which will be used to double other people's donations.
Invite ALL my friends and family on Facebook. And I invited every. single. one. Many of whom I haven't spoken to or seen in years (I am really sorry about that!) but most of whom I think about a lot and really do mean to get in touch with eventually/reply to their emails and texts sent 5+ years ago!
A few of my donations came from people I haven't spoken to in a while but I 'like' their posts and really enjoy reading their news. Likewise, I assume, because they have very kindly donated to my fundraiser, they like my regular posts and shares about S.A.L.V.E. I think social media is a great way of keeping people udated about S.A.L.V.E.'s work and demonstrating the difference people's kind support is making.
I have everything I need. I am blessed with a beautiful, healthy family, a great education and a roof over my head. I don't need more 'things' to make my birthday special. But there are children and families in Uganda who are not as fortunate and this is just my small way of helping a wonderful charity working really hard to give others a brighter future.
Why S.A.L.V.E. Inspires Me…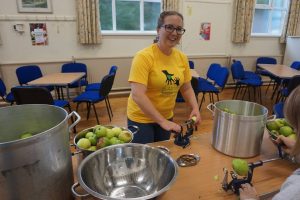 I'd like to share a story that illustrates why S.A.L.V.E. is so amazing and what inspires me to volunteer my time and donate my money.
On my penultimate visit to Uganda in 2014, I met a ten year old boy called Sam* on the streets of Jinja. He had run away to the streets a year before because his mother could not afford to feed and educate him. He had been counselled by Alfred, who was then one of our street outreach workers and is now the Ugandan Director! Alfred had planned, with Sam's agreement, to take him back home.
We found Sam's mum, about five miles away in a small village. She was standing on top of a huge pile of rubbish and the smell was revolting. Her job was to clear any vegetation and compost it. She also collected plastic bags which she sold for 1,000 shillings (about 20p) per 100kg. I had to ask Alfred to repeat that to me – I thought he said 10kg but no, he said 100kg for 20p!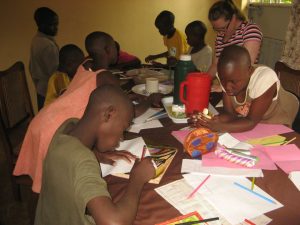 Before S.A.L.V.E. settles a child back home we have to see where they are living, make sure it's safe and get contact details so we can do follow ups to see how they are getting on at home in the future. So we went to her home where we were made to feel very welcome. Both Sam and his mum were happy that he was back. The first thing Sam had to do was wash – typical mum!
She told us that she had eight children and her husband had divorced her and abandoned the children five years before. Fortunately, Jen's parents agreed to look after four of her children. Even with this support, on just one meagre salary, she could not feed all of her children. As the eldest, Sam took it upon himself, at nine years old, to leave his home and head to the streets to fend for himself.
S.A.L.V.E. continued to follow up with Sam, got him an educational sponsor (my dad!) and got him into school! We also talked with his mum about her skills and potential businesses she might be able to start up, to be able to sustain her family better and eventually be able to afford to send all of her children to school. In the end, Sam's mum decided to move her son's back to their village to keep them away from the street for good. However, S.A.L.V.E.'s support allowed the family to be reunified and look for a brighter future together, and this is why I chose to dedicate my birthday to S.A.L.V.E. this year.

*We have changed Sam's name in line with our child protection policy.