A few weeks ago, I was having coffee outside a bar in Manchester, where I live. A homeless man came up to all of the tables asking for change or help to find somewhere to stay for the night. I watched as a couple sitting near me completely ignored him, almost as though he was invisible. Although I respect their choice not to give the man money, I found it strange that they chose not to engage with him at all, and it made me think about the way homelessness forces people to become an outsider in their own community. A lot of the time, the children on the street in Jinja are easy to spot. They look very distinctive and are treated a certain way by the majority of the community because of this. At the same time, in some respects they are practically invisible; they lack respect, political representation and many of the other aspects that create identity within a society.
At first, I wanted to focus my Inequality Challenge on being invisible for the week. But unfortunately, without a cloak it seemed unlikely that I could truly experience what it meant to be present, but not really seen by most people. Instead, I decided to explore the way that street connected children are often treated as different due to the way they look, and how communities create stereotypes, assuming these children are violent or thieves, before they even speak. So this week I will be dressing in a different way each day, to see how it feels to look like an outsider in my community.
If you would like to support the challenge, please take a look at our fundraising page.
Day 1…
Taking inspiration from Nicola's identity challenge, i decided to start off my week by wearing a hoody up, and avoiding eye contact. People certainly seemed less friendly but i didn't stand out much at all. This didn't stop me being uncomfortable about the way I was dressed. The children on the street clearly stand out due to their appearance, and while before I had been wondering how they were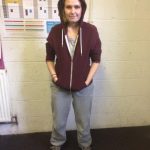 viewed by other people in their communities, today made me realise that they must be conscious of how they look themselves. I have seen many of the children dress up, either looking very smart, or trying to seem older than they are, and i reflected on how street life affects how you feel about your appearance.
Day 2…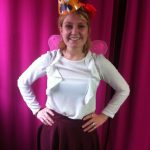 I was excited by today's challenge. Wearing fairy wings and a monster hat seemed slightly more obvious than yesterday. Dressing as a fairy for a day seemed like good fun! But by the afternoon, when i started to get tired, the idea of everyone staring at me seemed much less appealing. I was surprised of how quickly i wanted to return to my normal clothes, to feel less like an outsider. Walking into town in my outfit i received a lot of attention, and a few shouts. I guess the point is starting to sink in; the children in Uganda can't take off their wings when they are tired of looking different, and have nowhere to hide when they're living on the street.
Day 3…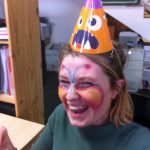 My favourite thing about today is how many people had conversations with me, never mentioning the fact that my face was painted as a butterfly. I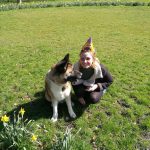 think it's that sense of ignoring the elephant (or butterfly) in the room. I walked into town after work to attend a Small International Development Charity meeting and networked with other organisations, who openly admitted they didn't take me seriously based on how i looked. Looking like an outsider and having everyone stare at me all day is much more exhausting than i was expecting, but unlike the children in Jinja, at least i get to go home at the end of the day and hide.
Day 4…
Today I'm being a crocodile. Everyone stared at me on my walk to work, and it's still just as embarrassing as day 1. My particular highlight was walking through central Manchester after work. The whole thing is starting to make me snappy.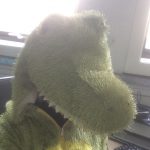 Day 5…
In my attempts to become more visible i decided to dye my hair bright pink before heading to a party to meet new people. Unfortunately, left to my own devices, the hair dye didn't work too well and has made my hair a rather subtle shade of pink. A few people did comment on my hair, and I used this as an opportunity to tell people about the challenge.
Day 6…
As it's Sunday, I don't really have many plans, but i dressed up in my weirdest collection of non-matching, patterned clothes and took a trip to Sainsbury's. The most obvious thing in today's challenge seems to be that I can stay inside, on my sofa and relaxing at the weekend, and there are a lot of people who don't have this luxury.
Day 7…
It's my last day of my inequality challenge. Today, to be visible, I'm going to go out and talk to as many people as possible about the work of S.A.L.V.E. in my S.A.L.V.E. t-shirt. It seems like the most obvious way to be visible and raise awareness for our work, and hopefully to make people think about how visible, or not, other people are in their community. After a week of feeling uncomfortable, this was probably the easiest day, and hopefully a few people have thought about
What did I learn?
Looking different is exhausting and it's never nice to be stared at for standing out. I can never really understand what this is like, because while I stand out in public, i get to go home, take a hot shower and hide from other people's stares. Community attitudes towards street children are much more hostile than I could ever understand, let alone in a week.