This is a story that affects my life and similar people may be facing such situations or have faced the same.  I am Aunt Santi, a home assistant at S.A.L.V.E International sharing a story of a young boy of 11 years who was referred to my care in the S.A.L.V.E halfway home to recover from the trauma of the streets.
This boy is called Waiswa*. He is 11 years old and he comes from a small village in the eastern part of Uganda. Waiswa explains, I am the youngest of nine children living with my mother.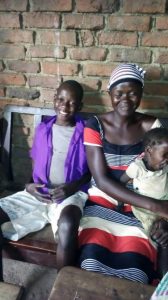 By the time I began to understand that I no father figure in my life, I heard my mother telling her friends he had died. Whenever she spoke of him, tears started to fall, making me sad and worried. I didn't fully understand that my father's death damaged my family; my relatives grabbed all of my father's wealth, and even the house he had built. My older brothers had to drop out of school, and we resorted to staying in a grass thatched house, which leaked during the rainy season. Getting food became a huge problem because my mum had no money. She used to do laundry for people to earn some small money, but this was not enough to provide stable food. She would often come home without being paid and we all had no supper that night.
One day, we were visited by one of our aunties. She found that my mother was preparing  to go and look for work. My mother and the aunt had a lengthy talk and she explained to the auntie the situation she was facing; the auntie sympathised with my mother and told her that she would take care one of her children and take us to school. My  mother never liked that idea, despite all her hardships she wanted her children with her, and she told her to think about it.
After a period of time, my aunt came home again to meet my mother and this time one of my sisters was sick. My mum had no money to take my sister for medication,  so she helped my mother by taking my sister but by this time she was too ill, and unfortunately passed on.
This was sad news for us all, and after the burial, my aunt had a talk with my mother and it was decided that I would be taken by the aunt to be cared for by another family. My elder sister called me, I was bathed and some of my clothes were packed in a bag ready to go with my aunt. She promised that the other family was willing to take me to school and I had hope that I would be able to support my mother and siblings when I became successful in the future.
Hope and disappointment
I travelled with my aunt to a new place and to me, it looked like a king's palace! The house was inside a walled fence and as we entered the compound, the new family was very happy to receive me. I was also happy.
After one week, they started mistreating me. They would wake  me up very early in the morning to clean the big house, wash utensils  and clothes and I was told that if I did not do all of the cleaning and washing then I would not eat. I was beaten and commanded to stand under the sun for a long time. I could do all of the domestic chores but they would not appreciate me, they would beat me. I realised they had not taken me in out of love but to become like their slave. I was tired of the situation but no one could help. I asked them to return me home but they refused.
One day I was told to sleep out in the compound. It rained so heavily but I had nothing to do but accept. The lady in this new home told me that I was her property  and she could do whatever she thought was right. On another occasion, I was hungry and ate food that was left for a child who had gone to school. I was slapped so hard that I lost hearing in one ear and up to now I still cannot hear well.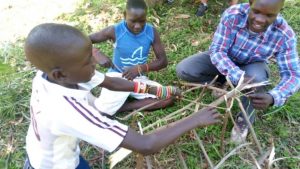 After three months, I started developing ideas of escaping from this place because I could not bear the situation. I wanted to be a good boy and do as my family had requested, but I believed they had been deceived about my situation. I prayed that my aunt would come to take me home, but she never appeared. I tried to escape, but all in vain due to the high fence.
One day, it was a birthday celebration at the house, and everybody was busy preparing and organising the event. All family members were asked to attend, including me for once. Instead of going home I decided to runthe streetseets because I knew that the celebration would only be for one day and the next day I would be back to suffering.
Life on the streets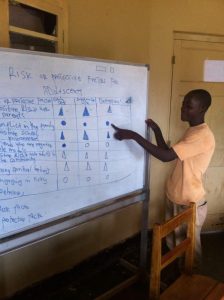 It was hard coping with life on the street the first few days; getting food was a problem, I started picking food from a rubbish pit. I became used to this strange life and made friends in a similar situation on the street. Luckily, a wonderful opportunity came when S.A.L.V.E. International came to meet me. I met some S.A.L.V.E. staff during a street walk where they showed me love and mentioned that they were willing to support me to leave the street. Though I was scared at first since the other family had also promised me good things and then abused me.
I was told about the S.A.L.V.E. drop in centre and indeed I attended the centre regularly. I was referred from the S.A.L.V.E. drop in centre to the S.A.L.V.E. half way home and stayed there for two months. After this, I was resettled back home to my mother and she promised not to let my aunt take me away again to suffer.
My family is too vulnerable and couldn't afford to educate me so S.A.L.V.E., through their educational sponsorship programme, enrolled me into school. Thanks to S.A.L.V.E. International supporters for the wonderful hand of  love and care you have showed us, the forgotten ones, we shall never forget you."
*Waiswa's name has been changed in this public forum in line with our child protection policy.